Goodness, I am back again very soon; two posts in two days. But I could not let National Non-fiction Day pass without sharing with you some excellent titles that I have been sharing with the children in school. If you're looking for some fascinating facts, read on!

The World's Most Pointless Animals, by Philip Bunting, published by Happy Yak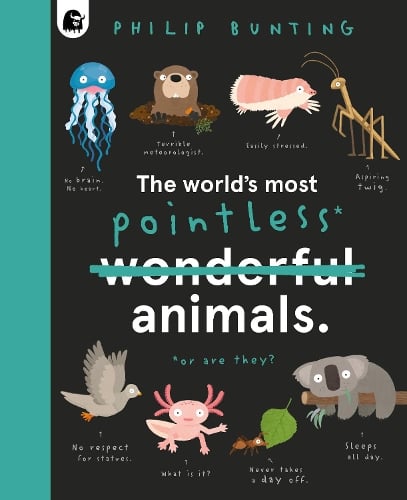 As soon as I saw the title of this book, I had to find out what on earth it was about. Children adore animals and I couldn't see them dismissing any of them as pointless. However, they do like to have a chuckle at the strange things animals do so I thought this might be popular in the Library.
And it is! Together, we have explored the pages of this hilarious but fascinating book, with its humorous illustrations. On each page is a different animal that has, let's say, its own eccentricities. Take the Tufted Deer, for instance. Bunting has nominated himself the inventor of silly Latin words for each animal, and the Tufted Deer is called Dracularis Barkus Bambi. The Dracularis bit comes from the fact that this deer has actual fangs even though it's a herbivore and not a blood-sucking beast. The Barkus bit is due to the noise the deer makes (you've got it: it barks). Bambi – well I think you know where that comes from.
Interlaced with this humour are some really interesting facts and I can honestly say I found this an incredibly informative and funny read. Give it a go for a giggle!
Everything You Know About Dinosaurs is Wrong! by Dr Nick Crumpton and Gavin Scott, published by Nosy Crow
Every time I share a book about dinosaurs with a class (particularly Years 1 and 2), they show me their expertise by correcting my pronunciation of dinosaur names (I am dreadful at this), and waving their hands in the air to tell me all sorts of fascinating facts that render me speechless. Children know their stuff when it comes to our prehistoric friends so I was shocked to see Nosy Crow's latest title as it landed on my doorstep. And I think that Everything You Know About Dinosaurs is Wrong! by Dr Nick Crumpton and Gavin Scott is going to shock some of my young borrowers.
Split into double-page spreads devoted to one 'myth' each, this book pulls apart our prior assumptions. Do you think that dinosaurs are extinct? Well, they're not, so Jurassic Park might need to reconsider its premise. We are living with and seeing dinosaurs on a daily basis, in the form of our feathered friends, birds. The main difference between those around at the time of T Rex and now is that they had teeth. Imagine that next time you feed a robin or a duck…
Also debunked is the assumption that dinosaurs all have unpronounceable names. Apparently, this is untrue, much to my relief. Some dinos are called something much easier, such as 'Shanag', 'Zuul', and 'Yi' – one of the shortest names ever given to an animal (its full name is easy to pronounce too – 'Yi Qi'). As a wordsmith I really enjoyed this spread because Crumpton included the meanings behind parts of other dinosaur names – 'raptor', for example, means 'robber' or 'thief', while 'eo' means 'dawn'.
This book is crammed with similarly amazing facts and is a great addition to the more traditional dinosaurs books. I know that when I share this with the children it will never be in the Library, such is the fascination this subject holds. And, as with all children's books, it's not 'just' interesting for children; as an adult I spent ages pouring over its pages. The illustrations are impressive too – full of colour and detail that bring these beasts back to life. If you see what I mean.
Update – just shared this with Year 2 who loved it so much, and wanted to share their dino facts, that they got quite upset when library time was over. We're going to have to continue with it next week and it's being used as a special treat for the end of the day. You can't get a higher recommendation than that!
Listified! Britannica's 300 Lists That Will Blow your Mind, by Andrew Pettie and Andrés Lozano, published by Britannica Books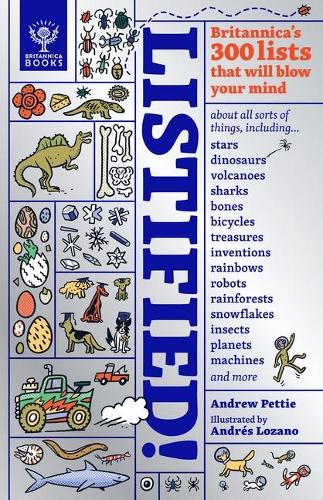 This title has garnered a lot of attention recently and it's easy to see why. It's a massive compendium of lists about every non-fiction topic imaginable – amphibians, exploding stars, the seven natural wonders of the world, history's biggest hoaxes and pranks … the 'list' goes on. In this last category, I was astounded to read that on April Fool's Day in 1957, the BBC showed a news report suggesting that spaghetti actually grows on trees. In the video footage, long strands of the stuff were being harvested from trees and, despite the significance of the date, viewers believed what they were seeing and called the BBC to ask how they could grow their own spaghetti.
There are lists, numbers, explanations, records – everything you might want to know about anything. This is definitely my kind of book – I could sit for hours devouring all the trivia in its pages and then probably embarrass myself at get-togethers by regurgitating it. For example, did you know that the tallest object ever balanced on a person's nose measured 15.95 metres? How does that even happen? (Apparently it was a very long pole.) And the fastest time to blow up ten balloons underwater is 2 minutes and 52.01 seconds?
I'd better stop.
This book is a huge tome, presented in glorious colourful illustrations and photographs. There's humour as well as fascination, and I think anyone who has an interest in general knowledge and fun facts would love this. I'm off now to read about five things on the human body that humans no longer need…
Molly and the Mathematical Mystery, by Eugenia Cheng and Aleksandra Artymowska, published by Templar Books
Whenever I read the word 'maths' I break into a cold sweat. It wasn't my strong subject at school; in fact it was my absolute weakest. I couldn't make head nor tail of it and what didn't help was that I found it utterly boring. I could see why I needed to know how to add, subtract, multiply and divide, and that percentages were helpful, but since I wasn't going to go into a mathematical or scientific field, I couldn't see the point of anything else.
This book challenges our misconceptions about maths. According to Eugenia Cheng, it's about exploring ideas and using our imagination – of making sense of the world. She uses her character Molly to show us this, leading us through double-page spreads about ideas such as 'inside-out maths' (looking at inverses, eg multiplication and division), 'impossible objects' (eg objects that can exist in 2D but not 3D), and self-symmetry (infinite shapes, for example – like Russian dolls that are replicas of each other and keep getting smaller and smaller…).
Cheng's ideas are illustrated perfectly by Artymowska, who brings the concepts to life in bright colours and patterns. The exact opposite of what you might expect maths to be (well, what I would, with my prejudice!). There are flaps to lift too but this is no way a baby board book – unless your baby is Einstein. My favourite page, unsurprisingly, was the mixed-up library, exploring the ideas of combinations. There was even a pink and red wheel to spin!
I was going to recommend this for anyone with an interest in maths, but that's really not true. As I admitted, maths isn't my thing but I found this book fascinating and it could help to demystify the subject for anyone who, like me, is a reluctant mathematician.
Mummies Unwrapped, by Tom Froese, published by Nosy Crow and the British Library
The last thing you probably want to do (unless you're an archaeologist) is unwrap a mummy but Tom Froese has metaphorically done this for his readers in this exciting book. I never knew, for example, that the word 'mummy' comes from the Persian word 'mumiya' which means 'bitumen'. Apparently when mummies were first discovered hundreds of years ago, they looked like they had been covered in bitumen because of their colour!
The book then takes a look at some of the familiar processes of mummification, how the mummies were buried, and what the ancient Egyptians believed happened to humans after they died. There's an interesting section on what happened when the mummies were discovered in more modern times – horrifyingly, for me, the cat mummies that were found were sent to England and ground up to be used as plant fertilisers! What a dreadful way to treat an archaeological find! The same is true of what happened to ground-up human mummy remains, which were used to create an oil paint called Mummy Brown, appropriately (the name, not the practice!). Apparently this paint was still in production until the 1960s.
The most gruesome but intriguing fact for me was how tomb robbers use to pull off a mummy's arm or leg to use as a torch – there must be a good ghost story in that! This is a great book for history buffs or ancient Egypt enthusiasts – young or old (or even ancient!).
Sunday Fun Day, by Katherine Halligan and Jesús Verona, published by Nosy Crow

This beautiful book combines gardening, cooking, art and all sorts of other activities into a compendium of fun for children to enjoy throughout the year. Helpfully split into seasons, children can choose from a variety of activities that correspond to what is happening in nature – in Spring they could try some leaf-rubbing or painting; in Summer, a fruity smoothie is a tasty accompaniment to adopting a pet rock, for example; in Autumn you could collect items to go into a Nature Memory Jar – which looks like such a lovely activity, especially if you also record what you found where; and in Winter, when Nature is naturally more quiet, you can still do amazing things such as creating a Winter Wildlife Wishing Tree by hanging wildlife-friendly food such as popcorn and dried fruits onto outdoor shrubs or trees or even balconies.
While reading this book, I felt inspired to try out the activities myself at home – I liked the Wishing Tree particularly as we normally put out a feeder in the winter for our blackbirds, robins, goldfinches and other visitors. There is plenty to choose from and it doesn't cost a lot to do any of these suggestions. Children love being outside but sometimes it can be hard to think of things to do when the weather is inclement; this book has just the answer for any situation!
Great Britons, by Imogen Russell Williams and Sara Mulvanny, published by Nosy Crow
Over the last few years, there has been a plethora of biographies of famous people. In this latest collection by Imogen Russell Williams, we have a real range of inspiring people, from Stephen Hawking to Stormzy, Judith Kerr to Paul McCartney. They might not have all been born here but they made the UK their home and contributed towards making it a better place. This is an important point in these days of controversy over immigration. Russell also addresses the complications that arise from the history of the British Empire and colonialism but uses this to highlight people like Olaudah Equiano and Mary Prince who, despite being former slaves, wrote about their experiences to help people understand the horrors of the slave trade, which in turn helped lead to its abolishment in 1833.
This is an enjoyable and interesting collection of mini-biographies of a truly diverse range of people. I enjoyed finding out more about individuals who aren't normally included in these compilations and there are some fascinating facts in there too – did you know, for example, that the word 'gremlin' was not really in circulation in everyday speech until after Roald Dahl's novel of the same name was published in 1943?