I've been rather quiet on the blog lately, due to my own debut YA novel, The Haunting of Lindy Pennyworth, being published in October. It's been a whirlwind of signings, workshops and promotion so I've fallen behind somewhat with my reviewing. However, I will rectify this in the next week or two with a flurry of activity!
That said, I will be winding down my work on this blog very soon. I will say more in due course, but with my workload being so heavy, I will not have the time to dedicate to it as I would like. More details to follow but in the meantime, enjoy reading about these gorgeous books!
Time to Move South for Winter, by Clare Helen Welsh and Jenny Lovlie, published by Nosy Crow
The Arctic tern has the longest migration of any animal in the world. The migration lasts three months and, during a lifetime, this bird will typically make three trips to the moon and back. It must be exhausted!
Clare Helen Welsh's book covers what one Arctic tern sees during a migration, focusing on all the other animals that are moving south for the winter, such as humpback whales, caribou, Canada geese, leatherback turtles and Monarch butterflies. There is a helpful double-page spread at the back, giving further interesting facts, too.
Fact books that are written so poetically are a treasure. It's a real talent: having the ability to inform while soothing with poetic language, but Welsh does just that in this beautiful book. Lovlie's stunning illustrations are the perfect match for the text – I adored the sweeping, gentle movements as we followed our tern on her journey. This is the perfect read for this time of year.
The Bear and her Book, by Frances Tosdevin and Sophia O'Connor, published by UCLan Publishing
This is a very special book about a very special, book-loving bear, who wants to see the world beyond her 'beary-own' patch. As she sets out on her exploration, she takes one prized possession with her – her copy of 'Bear's Big Book of Being Wise'. It is fortunate that she does so because she turns to this book to help the animals she encounters on her way.
This is a comforting read, full of lovely, lilting rhymes. The repeated refrain: 'The world is big and there's much to see, and a bear must go where she wants to be' invites children to join in with the story and the bear's adventures. Sophia O'Connor's pictures of full of gentle warmth and comfort and her characterization of Bear is gorgeous – friendly, inquisitive and helpful. This is sure to become a favourite, and is a particularly soothing read at bedtime.
Bird's Eye View, by Frann Preston-Gannon, published by Nosy Crow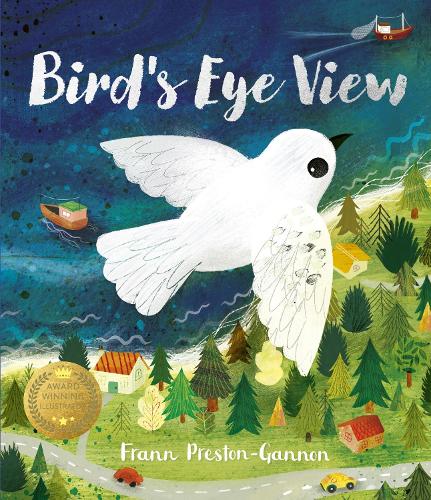 We have another inquisitive character in the form of Little Bird, who is desperate to see the world for herself, despite having a warm, comfortable and safe nest. Her mother warns her to be careful of people, even though she doesn't really know what people are. As Little Bird embarks on her journey, she soon discovers that people are very different from each other. Some pollute the world, while others clean it. Some are happy, while others are worried and making their own long journeys. At the end, Little Bird becomes exhausted and must rely on people to help her. Fortunately, the ones she meets are kind.
As with all of Frann's work, Bird's Eye View is bold yet sympethic, told through a palette of rich colours that draw the reader into the story. There is no overarching moral to the story – we are shown through the bird's eyes the reality of humanity: there is good and bad, but it looks as if the good wins more times than the bad. There is always an element of safety in the pages, even at the most dangerous parts, and that is down to Frann's empathetic illustrations. A lovely book to add to your collection.
Mouse and Mole, by Joyce Dunbar and James Mayhew, published by Graffeg
I grew up reading about animal pairings, such as Frog and Toad by Arnold Lobel, so I was intrigued when I discovered this series by Joyce Dunbar and James Mayhew. I knew I was onto a winner when I saw the dedication 'For dear old Frog and Toad' at the beginning of the book!
Mouse and Mole follow in a similar vein – they are the definition of an odd couple but they get on well; their opposing personalities complementing each other. Their gentle adventures are set in a domestic realm and involve lovely picnics and are reminiscent of classic animals stories such as The Wind in the Willows. The children loved Mole's eccentricities. Poor Mouse tries to keep a steady paw on him but he's not always successful (and succumbs to his own vagaries too).
I highly recommend this series: it's comfort reading at its best. Dunbar's prose is kindly humorous and Mayhew's illustrations are full of cosy joy.
Puffin Peter, by Petr Horáček, published by Walker Books
Peter and Paul are puffins who are the best of friends. However, one day Paul goes missing in a storm and Peter dashes off in search of him. He discovers a helpful whale, who tries to lead Peter to where he is sure Paul can be found. However, Peter keeps leaving out vital pieces of information, and therefore is led to other birds who are similar but not the same.
The children had a great time laughing about Peter and the whale. They could also name all the other birds that the whale mistook Paul for – very impressive! This book by Horáček was first published in 2012 but, like all his work, is full of colour and boldness. His characters are infused with humour and personality and add to the joy of the story.
Three Little Vikings, by Bethan Woollvin, published by Two Hoots Books
Three brave Viking girls are sure that something isn't right in their settlement. There are strange noises, rumblings and shakings and the Chieftain, who seems rather nervous himself, dismisses their questioning with a resounding 'Nonsense!' and 'I know best!' As must be the case with children's books, the adults definitely don't know best and it's up to Helga, Ebba and Wren to discover the true source of the disturbance.
I am a fan of Bethan's storytelling. It's direct, it's funny and her accompanying illustrations are eye-catching, with strong lines and colours. The children kept trying to spot what they thought was making the trouble as I showed them the pictures and this is typical of Bethan's style: it invites the reader to delve deeper. We have a trio of heroines in this book who show the Chieftain a thing or two and we, the reader, have lots of fun in the process.