Yesterday I popped into Blackwell's bookshop to browse the new children's titles and found two remarkable retellings of classic stories that I want to share with you – and look forward to sharing with the children in school.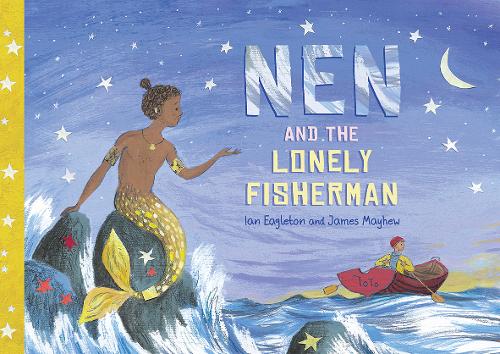 The first is a delightful story resulting from the collaboration of Ian Eagleton and James Mayhew called Nen and the Lonely Fisherman, published by Owlet Press.
Nen is a Merman, who spends his days exploring the ocean and all the treasures beneath the waves. He is happy but also missing something important from his life – companionship. That is until he meets Ernest, a fisherman who devotes his life to 'rescuing, freeing, collecting, dreaming … and creating!'. The match feels pre-destined: both Nen and Ernest are kind and caring but lonely, looking for their soulmate.
Nen's father Pelagios is furious. He doesn't want his son mixing with the people who are destroying his oceans. He causes a terrible tempest, during which Ernest's little boat is capsized and Ernest falls into the tumultuous waves of the sea.
Like the oceans, this picture book has hidden depths. It is a story about companionship and love – a love that, for many, is forbidden. It is a quiet lament about the how humankind is disregarding the seas. It is a wistful evocation of how life could be if we loved and accepted everyone for who they are instead of through our own misconceptions and judgements. It's a balm for loneliness.
This might make Nen sound like a book that preaches to its audience but Eagleton's prose succeeds in saying these things without ever resorting to moralistic posturing. The messages are there in the story but evolve alongside it – they are as much part of the action as everything else that is happening. The book is all the more powerful because of this – we don't need the author to tell us that Nen's and Ernest's love should be allowed because we see it for ourselves and wonder at those who are trying to make it stop.
James Mayhew's illustrations are, as always, gorgeous and utterly unique. The sweeping waves of the sea mirror the mists and colours of the sky – a poetic style that captivates and entwines you into the storytelling. In an era of much digitalised techniques, Mayhew's more traditional renderings create a highly individualistic style is immediately identifiable and filled with such warmth and love.
There have been many re-imaginings of The Little Mermaid, with varying degrees of success, but I feel that Nen will become – and deserves to be – a standout story to be cherished.
The second book featured today also features boats and water! This is Timothy Knapman's retelling of The Wind in the Willows, by Kenneth Grahame, with original illustrations by EH Shepard.
As soon as I lay my eyes on this delight in Blackwell's, I knew I had to have a copy. Back in the first lockdown in 2020, I had wanted to read the original version of this classic to the children via Zoom but it was taking a long time and didn't suit the format. I would have jumped at the chance to have this expertly retold version instead. Knapman captures the essential plot developments of Grahame's story in picture-book format very well indeed, as we learn about the different characters of the River, the Wood, and, of course, Toad Hall. Because it is a picture book, we have to jump from one incident to the next without pausing too much on the hilarity of each but Knapman navigates this well and readers start to get a good impression of just how naughty Toad is!
I read the book today over Google Classroom to the Year 1 children – most of whom had not heard of the original book. They sat in eager silence and listened to Toad's capers, and Ratty and Mole and Badger's attempts to control their wayward friend. They had a giggle when Toad dressed up as a washerwoman to escape prison, only to be pursued by the Police by train!
It was a delight to have EH Shepard's iconic illustrations accompanying this retelling – the fine lines and colours adding a lovely touch. It felt like a real step back in time for me, as this was one of my favourite childhood reads and I am always eager to share the story with any child who will listen! The drawings really capture the individual traits of each character and I could lose myself quite happily in them for a long time.
Retellings aren't always a success when they have to be adapted considerably from the original, but I firmly believe that Knapman does the job brilliantly – and that Grahame would approve. After all, he kept in my favourite words from the original: "Oh, Mole! There is nothing half so much fun as simply messing about in boats!"
This adaptation is published by Farshore, an imprint of HarperCollins.