Many children are back at school this week, so what better time to look at books that feature this? Whether you're going for the first time, or going back to a place you know well, there are books out there!
The Colour Monster Goes to School, by Anna Llenas, published by Templar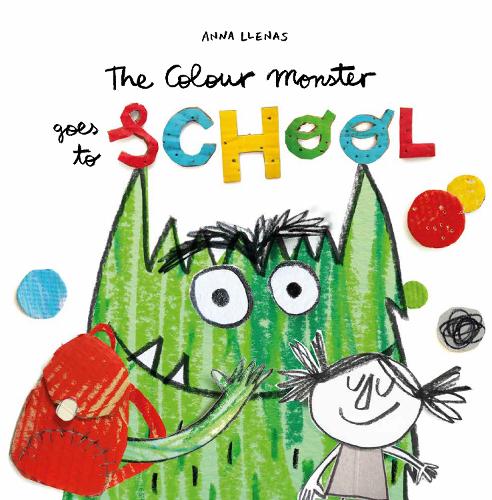 This is the second book in the series by Catalan author and illustrator Anna Llenas and promises to be a favourite with children who are new, or fairly new, to school. The larger than life creature, so adept at representing emotions, gets into all sorts of messes on his first day but still has a brilliant time painting, playing and getting to know all the new children. As always, Llenas's illustrations bring a quirky and fun playfulness to the story, almost leaping off the page, and children will be hooked into this tale of embracing new situations without fear of making mistakes. Perfect for those starting school for the first time, starting at a new school or those who generally find the first few days a nerve-wracking experience (great for the staffroom too, then!).
Wrigglesbottom Primary: The Classroom Cat, by Becka Moor and Pamela Butchart, published by Nosy Crow
The blurb on the back of this latest Wrigglesbottom Primary book says, 'Anything can happen at Wrigglesbottom Primary and it ALWAYS does.' A cat in the classroom seems to want to say something, a crisp falling into a puddle could potentially make you unwell, and Imaginary Margaret seems to enjoy playing tricks on the pupils. The three ensuing weird tales make for hilarious reading for children who want to try longer reads and the lively illustrations make this very appealing to emerging and newly confident readers.
The World's Worst Teachers, by David Walliams and Tony Ross, published by HarperCollins Children's Books
David Walliams has created hilarity with his series based on World's Worst Children and has followed this up with a collection of appalling teachers, so how could I not give this to the children in my school for the start of term? I dread to think how we will all do in comparison to the likes of poor Mr Pents, a maths teacher who is terrified of balls, or The Incredible Bulk – a PE teacher who really doesn't seem to have played a game of anything ever. I must admit that I started getting ideas from Miss Spick, the wicked librarian, who weaves around the premises on a mobility scooter and makes a tidy sum of money charging children for minor offences, such as smudges on books, yawning, etc. I could retire in a term, I think, if I follow her example. When I read this with a couple of Chinese children I taught last week, they loved the revenge meted out on these teachers by their long-suffering pupils, so I think this will go down a treat with the children at St Michael's. I'll have to ensure they don't read the end of Miss Spick's story, though, if I want to retire by Christmas. Giggling good fun from David Walliams.
100 First Words, by Edward Underwood, published by Nosy Crow
Perhaps your little one isn't old enough for school yet, or is just starting in Pre-school or Reception. This sturdy book teaches children 100 common words through large, friendly fonts and colourful illustrations, some under flaps which hide another new word. It's perfect for curious little fingers to play with and is a beautiful edition to a home or school library.
I Saw Esau: The Schoolchild's pocket book, edited by Iona and Peter Opie, illustrated by Maurice Sendak, published by Walker Books
I found this gem in an Oxfam bookshop and had to have it, especially when considering the blurb on the inside front cover, stating that: 'There are more than one hundred and seventy rhymes to be found in this unique volume… rhymes of insult and retaliation, of teasing and repartee; rhymes for skipping and for counting out; riddles, tongue-twisters, narratives and nonsense.' The rhyme from the title alone goes like this: 'I saw Esau kissing Kate, / The fact is we all three saw; / For I saw him, / And he saw me, / And she saw I saw Esau', which is both fun and tongue-twisting. Then there are rhymes composed to lament learning certain school subjects such as Latin: 'Latin is a dead tongue, / Dead as dead can be. / First it killed the Romans – / Now it's killing me.' Most of the numbered entries have little explanations of their usage and/or origins, which is fascinating if you enjoy learning about language. Traditional verses and rhymes help children learn the sounds and rhythms of their language (and others) so I will be selecting elements of this to read to the classes during their library times. Illustrated by the late and great Maurice Sendak, there is a lot to like here.
What are you reading now that school is back? Let me know!
Please note that I received review copies for all but the David Walliams and Opie books.