This week, we have been celebrating the Apollo 11 Lunar Landings at school in a variety of ways. We've had our Moon competition with 93 entries – YES 93!!! – and I am STILL struggling to allocate winners as every entry is worthy of a prize. I've had some guidance from the fantastic Duncan Beedie, who visited our school on Tuesday to talk about his latest book, Molly's Moon Mission, and from local author Angela Kecojevic, but even they found choosing difficult. It is so amazing and encouraging to see how the children have adopted this theme and put such incredible efforts into their creations.
Duncan Beedie battles cows to get to St Michael's!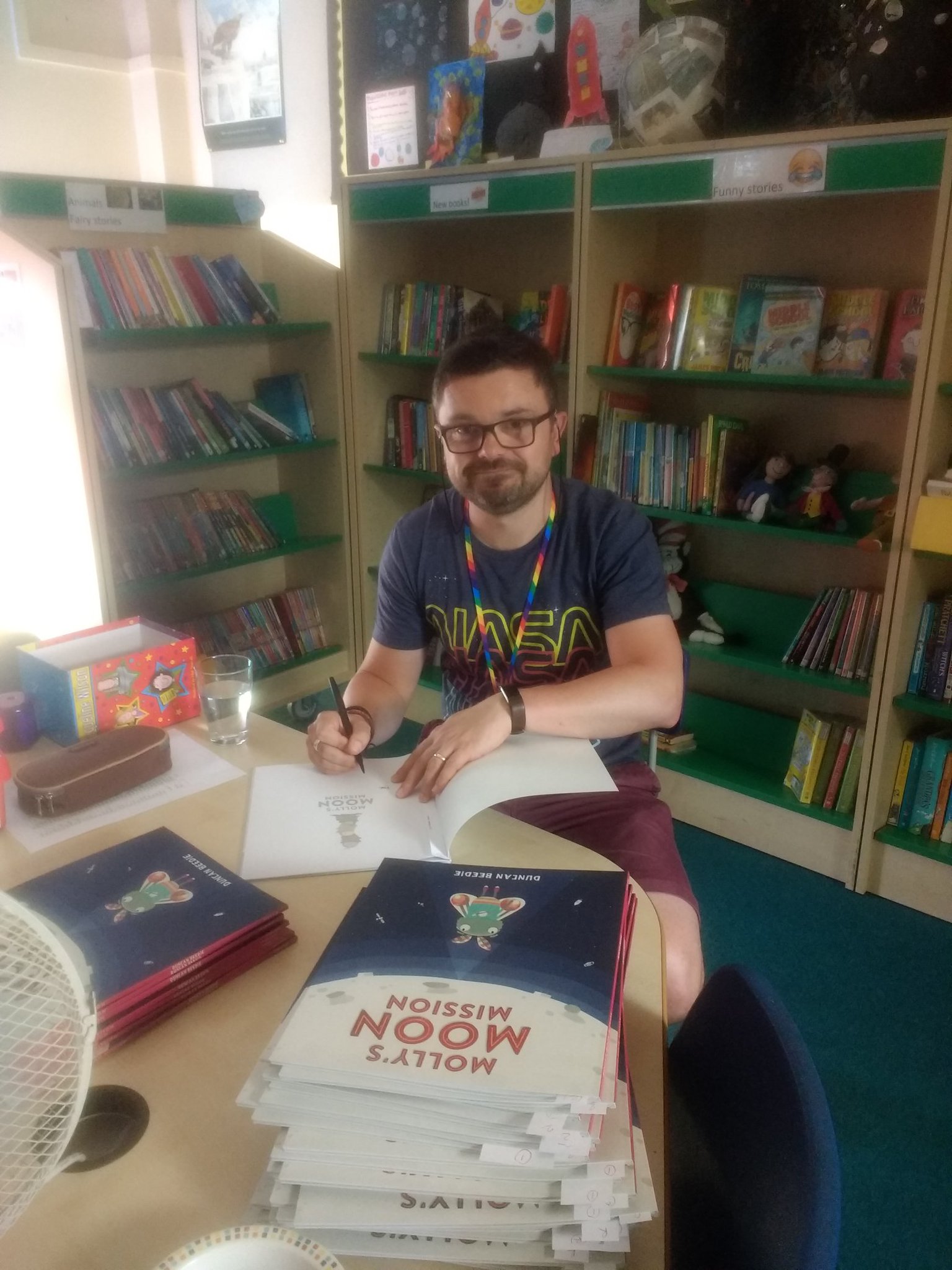 In 2018, Duncan's journey to the school was thwarted by heavy snow that closed all the trainlines. This year, he was well on his way until cows strayed onto the line and his train had to reverse back to Swindon. Determined to make it despite the COWtastrophe, Duncan found anUDDER form of transport in the form of a bus and eventually arrived at the school! He faced a pile of 40 books to sign before donning his astronaut suit and doing two sessions, back to back, for our children, in which he read from his book and held an illustration workshop. The children were very happy to see Duncan again and produced some excellent drawings too. Duncan – next time we hope Mother Nature complies and doesn't send any other type of natural phenomenon onto the Bristol – Didcot line! It's quite bizarre to think that Neil Armstrong, Buzz Aldrin and Michael Collins probably found it easier to blast off into space than catch a train to Oxford…
Two Moontastic books we've been enjoying
Over the last two weeks, I've been sharing moon books with the children to discuss the amazing achievements of the Apollo 11 astronauts and to inform them of what life is like for the brave men and women who still go up into space to work. The first was The Darkest Dark, by Chris Hadfield and The Fan Brothers, which recounts the story behind the Canadian astronaut's inspiration to be an astronaut.
According to the book, Chris used to be so afraid of the dark that he would try to sleep in his parents' bed. This changed when he watched the Apollo 11 astronauts blast into space from the only TV on the island where he was holidaying in Ontario. Everyone gathered around the screen to watch the momentous occasion and Chris realised that the darkest dark there is – space – was actually fascinating … and he wanted to go there for real. The rest, of course, is history as we know! Chris trained hard and ended up going into space three times in his career. This is a great picture book that not only informs children about the childhood of an intrepid stellar explorer, but it also helps children realise that not only can they overcome their fears but they can turn them into life-defining experiences.
The second book we have been talking about A LOT is How to be an Astronaut by Dr Sheila Kanani and Sol Linero, published and gifted to us by Nosy Crow.
The target age group for this fact-filled book is 5-8 years but I promise you that children throughout the school, including 11- and 12-year-olds, have found this completely intriguing. We've enjoyed reading about and discussing all sorts of facts including:
there is a piece of Velcro inside space helmets in case astronauts get an itchy nose
going to the loo is quite a strange procedure involving a kind of vacuum – wee is recycled into drinking water (lots of disgusted 'ewwws!' from the children) and poos are frozen and shot out into space to be burnt up in the Earth's atmosphere and could be mistaken for shooting stars. That fact inspired one child to create a picture of a 'shooting poo' for our competition, with the caption: 'When you wish upon a poo, it will come true!'
astronauts have to work out for two hours a day (strapped to a treadmill) to ensure their muscles stay strong as microgravity weakens them
astronauts can eat all sorts of things in space but not salt and pepper, nothing with crumbs and nothing that needs refrigerating. When I asked the children what they would most like to eat in space, apart from the expected answers such as 'chocolate' and 'ice cream' and 'McDonald's' I had a few unexpectedly sophisticated options such as 'smoked salmon' and 'avocado'. Their grocery bills must be quite expensive!
When this book hits the shelves I can see this forever being borrowed as it's created such a stir in group sessions. I'm not sure the children want to be astronauts as a result (the loo facts seemed to put them off a bit, as did the training on the Vomit Comet) but they will certainly want to keep reading about it, which is the mark of an excellent book.
Marking this anniversary has been such a rewarding experience for me as well as the children. I feel that this has been the first time that I've really appreciated the bravery of the astronauts and become much more engrossed in their story. It's also wonderful to see the children so interested in science and space – I hope it continues.