With today being Holocaust Memorial Day, and, according to the BBC website, one in twenty people still do not believe that the Holocaust ever happened, it is even more important that we share books that deal with this terrible time in history. And there are some marvellous, thought-provoking and emotional stories out there that help to inform children about what happened and why. The following are just some of the titles that I have come across – I am sure there are many more too so please feel free to add your recommendations in the Comments.
Once, by Morris Gleitzman
This is the first in a series of books by Gleitzman featuring young Felix as he strives to find hope in a very dark time. The book opens with him running away from the religious children's home / orphanage in order to find his parents. Sadly, he soon discovers the ugly truth about what is happening in the hands of the Nazis and realises that his parents are unlikely to be alive. During his travels, he meets other children orphaned by the Holocaust and his and their story soon becomes a tale of survival against the odds. It is a testament to Gleitzman's writing that he can and does find some humour in the situation but there are some hard-hitting scenes which show how the Jews were treated at the hands of their persecutors, so I would recommend a minimum age of ten years if a child is reading this on their own. Sensitive readers might benefit from reading this with an adult – although everyone, adults alike, can gain a lot from this short but powerful novel.
I Am David, by Anne Holm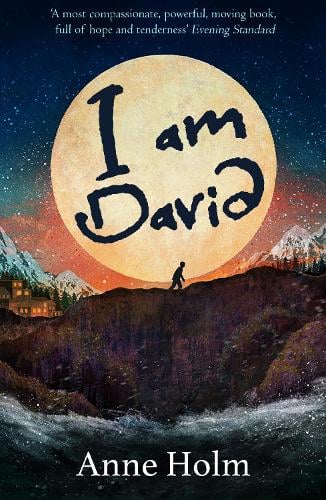 Readers first meet twelve-year-old David as he is assisted in escaping a concentration camp – he has a minute or so to get over the barbed fence and make a run for it, with little to keep him going but determination and hope. The story follows David's journey across Europe to Denmark to find his mother. As he travels, he experiences the more beautiful aspects of life for the first time: flowers, the sea, mountains – but he knows he must also be careful to avoid recapture. Because David doesn't quite know who he can trust in this strange world and he has to always be alert to the possibility that his freedom could end at any point. I first read this book when I was around ten or eleven and I loved it – the writing is beautiful, the journey fraught with David's alternating joy and fear. I recommended this to the Year 6 teacher in our school for an excellent story about World War II and the children have told me they love it too.
The Boy at the Top of the Mountain and The Boy in the Striped Pyjamas, by John Boyne

John Boyne has a wonderful ability to show aspects of the Second World War from different viewpoints in these two novels. In the first, orphan Pierrot is sent to live with his aunt Beatrix in the German mountains, where she is housekeeper for no other than Adolf Hitler. Pierrot, being a compliant boy, is soon taken under Hitler's wing and becomes unwittingly indoctrinated into the dictator's way of thinking, not understanding how or why others are quietly critical of the man whom they serve, and being blind to the man's actions against those who either opposed him or were of the groups Hitler and his Nazis victimised. Pierrot idolises this new-found authority figure and becomes complicit in his actions, leading to a series of outcomes that are horrific to contemplate. However, Boyne deals with them in such a way that the reader, while abhorring what is happening, understands how Pierrot has been corrupted. This book is perhaps best suited to children aged twelve years and up.
The Boy in the Striped Pyjamas has a younger protagonist, nine-year-old Bruno, who doesn't really understand what his father, a Nazi officer, does. However, he is saddened when the family has to move from their lovely house in Berlin to a miserable home in a desolate place, which overlooks a strange area bordered by barbed wire. One day, bored Bruno goes out exploring and meets another boy his age on the other side of the fence – a boy called Shmuel who is always hungry and who is always in the same pair of striped pyjamas. The two forge a friendship which ultimately leads to tragedy. This is a powerful story of trust, innocence and friendship during the hardest of times and shows how children, free of adult hatred and xenophobia, can be capable of love beyond prejudice.
The Book Thief, by Markus Zusak
At last, a book with a girl as the main protagonist! Young Liesel, another nine-year-old, lives with a foster family after her parents were taken away to a concentration camp. Liesel loves reading and starts stealing books from the nearby Nazi commander's house to indulge her passion. Around her, the town in which she lives is becoming infected with Nazism and the foster family with whom she lives struggles to keep her and another Jewish person safe as Allied bombs start falling on Germany. What I liked about this book was how Zusak showed a different side to our enemy in the War. We see that not every German supported Hitler – that there were people who tried, valiantly, to do what they could to protect victims and disassociate themselves with what was happening inside their own country and in others, often putting themselves in extreme danger. I think it is important for children to understand that, in every situation, there will always be those who try to do what is right, in the worst conditions, rather than believe that everyone should be tarred with the same brush.