This week in the Library, we are celebrating fathers, in honour of Father's Day tomorrow .
Even though many people dismiss this day as nothing more than commercialism, I think it's rather nice to consider how dads make us feel happier and more loved. Certainly in the books we read, they can be brave, funny, silly, hungry, forgetful, loving, wise and lost in their dreams. They might be with us most days or they may be absent: serving in the army, for example, or – much sadder – they may have passed away.
I've pulled together a selection of stories that celebrate the diversity of dads in the hope that you may find at least one that makes you smile or laugh or remember. Here's to the dads.
FArTHER, by Grahame Baker-Smith (Winner of the 2011 Kate Greenaway Medal), published by Templar.
Good for dads who: work obsessively on things or who struggle with mental health issues.
Perhaps the most serious of books on my list, FArTHER portrays a man who loves his son but who also is lost to his dreams of flying: "such a busy, bossy dream that would not leave him alone". With a personality that seems to border on obsession or perhaps bipolar disorder, the father works and works on creating something that will enable his dream to come true, only to suddenly stop in exhaustion and despair. The narrator's statement that "I would sit on his lap until he remembered me" is sad – the expression of fear in his eyes almost palpable. Then, his father would rejoin the real world, doing all the things a child loves to do with their parents – fishing, swimming, cricket,
embracing … "until the dream of flying returned". One day, his father received "another call" – conscription to fight in the First World War it seems (though it's never openly stated). The father never returns and the son grows up remembering him until one day the dream catches him and he successfully completes his father's work, flying through the sky and taking his father with him.
Ultimately this is an uplifting story which shows that, even when our loved ones aren't with us, we can always carry them in our hearts and pass their legacy on to our own families.
Dustbin Dad, by Peter Bently and Russell Ayto, published by Simon & Schuster UK
Good for dads who: are always hungry and like to lick their plates clean.
Does your father demand that you eat everything on your plate? It's probably best that he does because the dad in this book will polish off anything you leave – even if it's soggy, stale and, well, just rather nasty. He can't stand waste and he loves his food (and everyone else's) so much that it gets him in a whole lot of trouble one day when he accidentally eats the cat's Puss-Pep-Up powder.
Told in rhyme that races through the story, this book always has children in my library laughing at the dreadful things that happen to this greedy dad. It appears there are quite a few Dustbin Dads out there, scavenging off others' plates, so this could prove to be a helpful moral to them when the children take it home to share. Russell Ayto's illustrations complement the words perfectly, encapsulating the hilarity of a story that suggests that, sometimes, it's best to stop before you're completely full.
Raj and the Best Day Ever, by Seb Braun, published by Templar
Good for dads who: tend to be forgetful but who find wonderful and imaginative solutions!
Raj and his dad, who are tigers, have planned a day full of adventure for just the two of them. They'll go to the library, drive a tractor, visit a café, ride on a bus… until Dad forgets his wallet and all their plans are scuppered. However, Raj and his father won't let this defeat them: instead, they ride on make-believe tractors, create their own art out of leaves and stones and sticks, travel like superheroes and sit at their own café. In forgetting their money, they create experiences that money can't buy and show young readers that sometimes the best times and presents are those that come from our imaginations and our hearts.
The Summer My Father Was Ten, by Pat Brisson and Andrea Shine, published by Boyds Mills Press (Winner of the Christopher Award)
Good for dads who: love gardening with their children and who care about others.
This book was hidden away amongst my book boxes and hadn't been borrowed for twelve years. And that is such a shame. Pat Brisson's book lovingly explores the tradition between a father and his daughter who, every year, plant a garden of tomatoes, peppers, onions, marigolds and zinnias, while the father recounts a tale of the summer when he was ten. This turns out to be pivotal to the story for, in that summer, the ten-year-old boy destroyed his neighbour's garden in an impromptu act of vandalism with his friends. The elderly Italian neighbour, who lived by himself in the apartment above the boy, only says one word: "Why?" While the others forget about it, the boy can't, and eventually he strikes up a friendship with his neighbour, Mr Bellavista. They grow flowers and
vegetables together (tomatoes, peppers, onions, marigolds and zinnias) until, one day, the elderly man has to live in a nursing home. His legacy is that the father of this story shares the same summer rituals with his daughter, and remembers Mr Bellavista, each and every summer since.
This is a beautiful tale of friendship, empathy and the power of nature to unite.
Gorilla, by Anthony Browne, published by Walker Books (Winner of the Kate Greenaway Medal and the Kurt Maschler Award)
Good for dads who: are often too busy to spend much time with their children.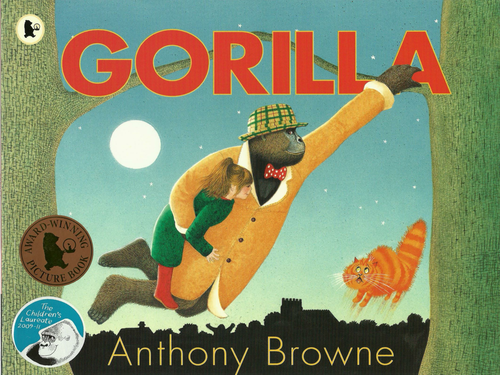 Anthony Browne is somewhat of a favourite of mine (I even wrote a paper on him for my MA in Children's Literature) and fathers feature in some of his best-known work, which is why two of his stories are included in this list. One of the things I love about his stories is that they are seemingly simple on the surface, but there's so much more to find underneath, which is the case with Gorilla – a tale that begins with a heavy heart but ends with a spring in its step. The story is about young Hannah, who loves gorillas. She wants nothing more than for her father to take her to the zoo but he's always too busy, either out at work or working from home. Hannah's life is dark and lonely, and Browne's illustrations and palette show this convincingly, incorporating subtle images from fairy
tales to heighten the sense of abandonment.
My Dad, by Anthony Browne, published by Doubleday
Good for dads who: are just the best at whatever they do!
This story celebrates fathers through simple but funny statements, as well as a recurring refrain of "He's all right, my dad." The titular dad is unafraid of anything (including the Big Bad Wolf), can do anything (including jumping over the moon) and is so superlative in words and actions that the children I read this to fell over laughing. He can eat like a horse! (Cue illustration of dad with a horse's head, still in that old dressing gown.) Swim like a fish! He's as big as a house (two very literal children in my session asked how he could possibly fit through the door in that case) and is also as daft as a brush (one girl said she would NOT like a daft dad). I think what this book conveys so well is
the awe that children can feel towards their parents – who take on larger-than-life proportions in their adoring offspring's eyes. The illustrations, full of colour and character, convey the warmth that Browne felt towards his own father, whose dressing gown provided the inspiration behind this picture book. I never tire of reading this to the children and it always guarantees a chuckle.
Gracie Grabbit and the Tiger, by Helen Stephens, published by Scholastic
Good for dads who: are a bit naughty.
Gracie Grabbit is a lovely child: honest, sensible and kind. Unfortunately her father, Bobby, is a very naughty daddy and thief who just laughs at his daughter's admonitions until, one day at the zoo, she carries out her promise to tell the zoo keeper to set the tiger on him if he starts nicking things for his swag bag. (I can see a career in law enforcement for this child.) While the zoo keeper doesn't hear what she is saying, the tiger spots the criminal at work and, thanks to an accident by Gracie, manages to get hold of the key and frees itself from the cage. Thankfully this tiger isn't the man-eating sort, so all Bobby gets is a nasty surprise when the animal picks him up by his trousers but it's enough to convince him to change his ways. A funny story that shows that dads have their
weaknesses as well as their strengths (and children can be quite vindictive if they put their minds to it!).
Do you have a favourite picture book featuring dads?