When the postman delivers parcels of books to review, I always squeal with excitement at what lies within the book-shaped jiffy bag. It's like receiving regular Christmas or birthday presents and if anyone knows me, they know that books are my favourite things (alongside perfume and clothes!).
Whenever I receive something from Big Picture Press, I know it's going to be gorgeous, so it should come as no surprise to you that I am going to rave about the four titles in this post.
Lots, by Marc Martin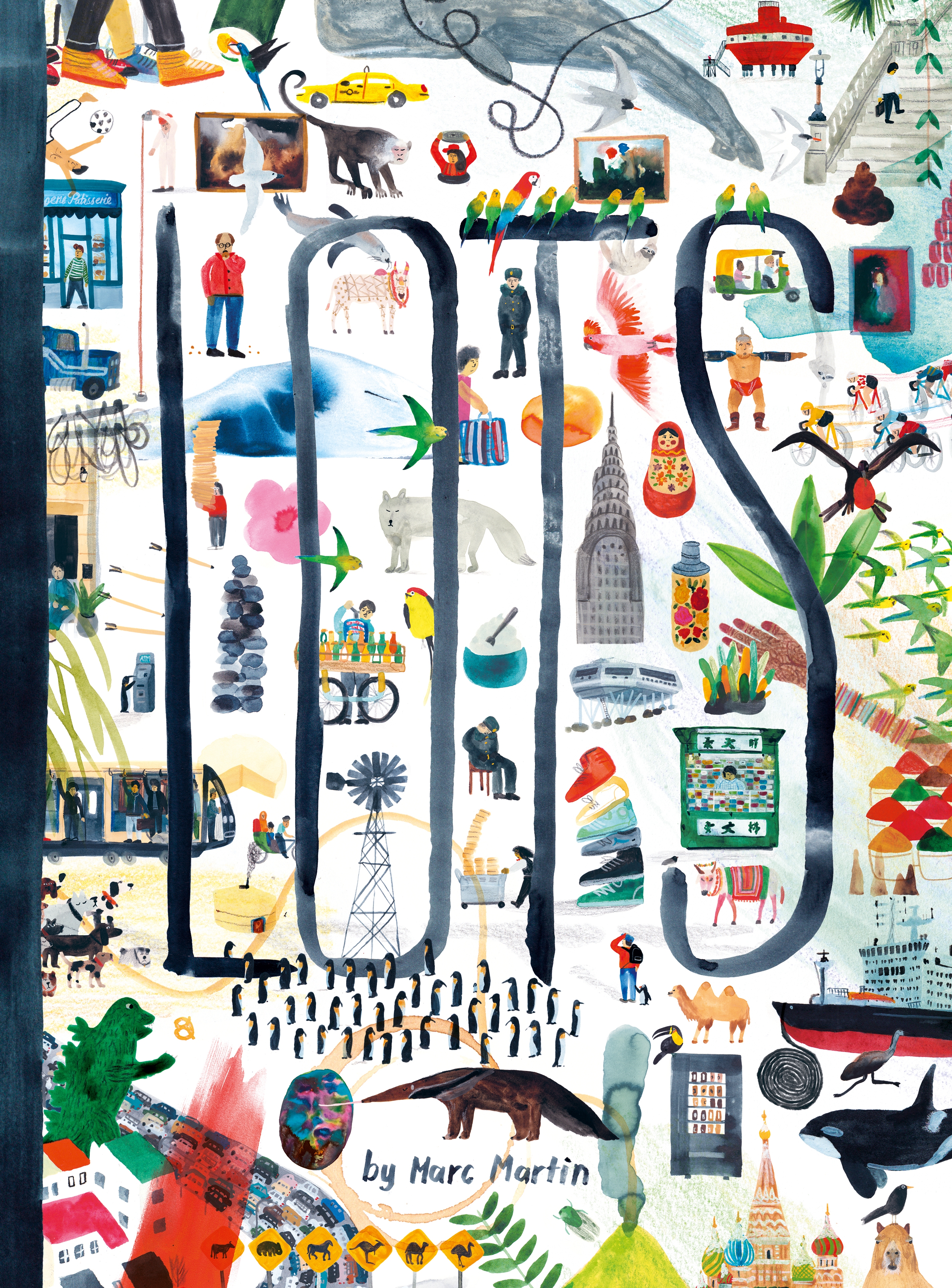 Published earlier this year, Lots is a fun way for children to find out about the world in which we live. Rather than take a very geographical approach to exploring different countries, Australian Marc Martin chooses cities (eg Tokyo, Rio de Janeiro and Hong Kong) and places (eg Antarctica, the Amazon and the Galapagos Islands) to crowd his double-page spreads with fascinating facts and gorgeous illustrations. Each picture, each written snippet of information, has been hand-drawn and handwritten, making this book seem very personal and inviting.
Usually if I am presented with pages full of colour and text (eg comics) I find my mind becoming confused – unsure of where to look first or next. I didn't have this problem with this book; instead, I let my eye wander around the pages. On the Tokyo spread, for example, I found out that there are lots of vending machines (I had no idea about this before), selling everything from soft drinks (pretty standard) to underwear (quite unusual!) and flowers (how do they keep them fresh?!). I learned that the Shibuya Crossing is the busiest crossing place in the world, with 10,000 people per hour making their way through it. What about the traffic lights?! And also, that the word 'Kawaii' means 'cute things' and that Godzilla is an official citizen of Japan.
In a previous post I mentioned that I love books with fascinating facts in them. Lots has already become my go-to book for trivia and certainly describes what is in this lovely book!
Dinosaurium, curated by Chris Wormell and Lily Murray
I haven't yet dared to take this book into school because I know it would be snaffled in an instant by a particular group of boys who are obsessed with anything dinosaur-related. At first I wondered how another book about dinosaurs could possibly be different to the many others that have been published (with them being extinct, surely most of what can be said has been?) but I was glad to be proven wrong.
The USP of this book is its approach and presentation. The fact that it has been 'curated' rather than 'written' is indicative of its uniqueness – the book is a 24/7 museum 'that is always open to explore'. The contents are divided into several 'galleries', which are then classified according to what falls into them (eg in Ornithopoda, you have Primitive Ornithopoda, The Jurassic Period, Iguanodon, Hadrosauridae and Egg Mountain). Intrigued by 'Egg Mountain', I was interested to discover that this name was given to a plateau in the Rocky Mountains in Montana where a herd of Maiasaura made their nests and laid their eggs. Unfortunately, many didn't hatch as they were covered by volcanic ash, but their loss has become our gain as they have been preserved for future study.
Even though I am not a huge fan of dinosaurs, I can't help but admire this book, which is part of the 'Welcome to the Museum' series. It would easily be a valuable addition to an adult's bookshelf and I imagine many will buy this because they are equally attracted to its beauty and factual content as their children. In-depth, intricate and impressive, this surely must be a Christmas present for any child who is into dinosaurs.
Urban Jungle, by Vicky Woodgate
This is such a novel idea – to produce a book about animals that live in 38 cities around the world – and Vicky Woodgate does it so well. The aim is to look at the different animals that populate world cities because, as Woodgate says: "As urban areas continue to expand, we're sure to see more and more wildlife on our doorsteps."
I'm dual nationality British/Canadian, and I used to live in British Columbia, so I was keen to read about Woodgate's selection of Vancouver animals, having had a couple of comical encounters with raccoons in Stanley Park (apparently home to around 500 species of fauna). Raccoons didn't make it onto Woodgate's list, but I was gutted to learn that I've never seen, for example, the Northern Flying Squirrel or the Western Red-backed Salamander.
Next I turned to Barcelona, another city in which I've lived, and apparently seen nothing much in the way of wildlife, apart from at the old zoo! Woodgate lists the Kuhl's Pipistrelle, the Grey Heron, and the Painted Pigeon (I've never seen those in the Placa Catalunya), as well as the European hedgehog and Red Squirrel. I might have caught sight of the Iberian Bluetail Damselfly though when holidaying in the rice-growing region south of the city.
This is a great way to find out about the many different animals that exist throughout the world in more urban environments and could also be a fun addition to a city break for young people – and their parents! Colourful, factual and engrossing.
The Atlas of Monsters, by Stuart Hill and Sandra Lawrence
Monsters, fairy tales and myths are amongst my favourite things so when this beautiful collection landed on my mat, I was very happy indeed.
At first, the book looks similar in layout to many produced by Big Picture Books – each country or continent of interest is introduced with a map with the 'main' monsters of note drawn onto it. This is followed by a page or two of short descriptions to match the monsters, detailing their names and the legends behind them. I was pleased to see the Sasquatch, which was a monster I was familiar with from British Columbia (though of course I'd never seen the fellow). I was interested to see a monster from Spain called Cuegle (from Cantabria) which apparently has three glowing eyes and arms with no hands or fingers. Apparently mothers put holly sprigs onto their babies' cradles to keep them safe from the holly-hating Cuegle! The Gurumapa has an onomatopoaeic name – at first I thought him grumpy but it seems he's more than that as people in Nepal think he's a terrifying ogre with monstrous fangs.
However, there is a difference in this Atlas to other similar titles. Throughout the book there are notes and questions made by a mysterious explorer called Cornelius Walters, who lived in the 15th century. Walters in fact made this map … or is it just a hoax on the readers? The librarian who writes the introductory letter to this book isn't sure what is fiction and reality, unable to decipher the cryptic code in Walter's ship's log.
So, we have a gorgeous series of maps drawn in a medieval style, short, punchy descriptions of monsters and a mystery. What's not to like?
Please note that I was sent copies of the books in this post for review purposes but the views expressed are entirely my own.