… you might meet the Minpins!
Today I am delighted to be reviewing the latest edition of The Minpins, called Billy and the Minpins, illustrated by Quentin Blake and published by Penguin.
I was surprised to discover that The Minpins was Roald Dahl's last book for children – somehow this fact eluded me until, well, today when I read an interview in the Guardian with Quentin Blake. As part of a dynamic publishing duo with the ever-popular Dahl, this was one book that Blake did not illustrate on first publication – the honour went to Patrick Benson (at the time, Blake was illustrating another of Dahl's books – Esio Trot).
When Blake was asked to illustrate this new version of The Minpins, he was understandably reluctant, not wanting to tread on another illustrator's toes. His publisher – Penguin Random House – reassured him that it was to fit in with other books in the Dahl series: Benson's version had amazing images that could not be scaled down in size to fit in a pocket. So, in 2015, Blake agreed to take on the challenge and what we now have is a beautiful, sympathetic and, in Blake's inimitably comic style, fascinating reimagining of the original tale.
What the book's about
Like many fairytale characters that have preceded him, Billy is constantly warned by his mother NOT to go into the woods because, therein, lie dangers such as Whangdoodles, Hornswogglers, Snozzwanglers and Vermicious Knids'. (Yes, you might very well recognise some of these monster names from other Dahl books!) So worried is Billy's mum, that she does her ironing in the kitchen, while administering occasional reminders of what not to do and asking her son where he is and what he's doing. Of course, anything forbidden acts like a charm on human curiosity, and Billy eventually succumbs to his desire to see just what is so bad in the deep, dark woods.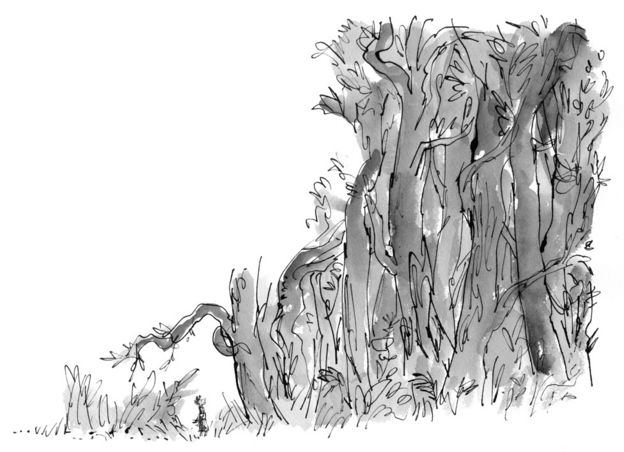 He doesn't have to wait long, as he is soon terrified by the Gruncher – a monster that has fire inside his belly and who exhales so much smoke that he can't see in front of him (luckily – or perhaps not – his sense of smell is so acute that he can track his prey with his nose). Billy climbs a tree to escape and stumbles upon a colony of Minpins – tiny people dressed in old-fashioned clothes (Blake says they're modelled on 17th century garb), who wear suction boots so they can walk wherever they like – and even upside down – on the trees. The leader of the group is Don Mini, who makes it his business to try to help Billy return home without being eaten by the wicked Gruncher.

I loved this book for all the usual reasons why I adore Roald Dahl. In Billy he has created a daring and disobedient child who's still likeable – who here hasn't gone against parental warnings to explore the world around them? Billy might get into an awful scrape but he's also capable of getting out of it when he creates, in the words of Blackadder's sidekick Baldrick 'a cunning plan'. Dahl's trademark talent for creating new and crazy words is ever evident and children will love the mix of fear and excitement, fun and thrills, that are always part of his stories.
Quentin Blake's illustrations, as usual, are spot-on – I cannot think of a better author/illustrator pairing. While Benson's original paintings were beautiful and rather epic in their use of colour and ratio, Blake's leap off the page with life, creating a different side to the typical fairytale world of ominous threat. Blake's is a world of fast  action and quick thought, his characters quirky and amusing.
This latest release in the Dahl collection is a must-have for any fans. You will not be disappointed!
Note: I was sent a review copy of Billy and the Minpins by the publisher.