In honour of International Cat Day, I thought I'd do a quick post about some of my favourite cats in children's literature. Of course, there are many out there gracing the pages of books and I am bound to forget some, but these are a few that spring to mind. And not in any order of preference either because that would just be unfair!
Enjoy – and do tell me who YOUR favourite is!
Mog – by Judith Kerr
I couldn't really start a list without lovely Mog, created by Judith Kerr. Cuddly, forgetful and always hungry, she's the perfect example of a cat who loves her creature comforts.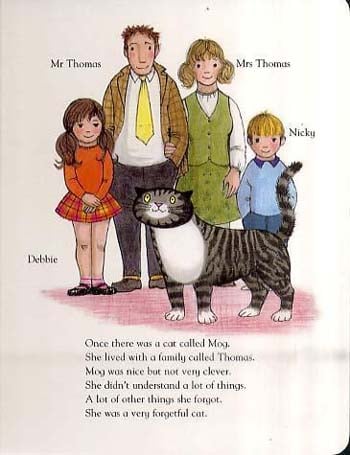 Huckle Cat, by Richard Scarry
Richard Scarry's gorgeous and hilarious books were very much a part of my childhood and I am still as delighted to read them now with the children in my Library. Huckle Cat features in many of the stories, often alongside his pal, Lowly the worm. What I love so much about him is his almost-always happy expression.
Zorba, in Luis Sepulveda and Satoshi Kitamura's The Story of a Seagull and the Cat Who Taught Her to Fly
Zorba is a cat who likes his routine and a quiet life. When his human goes away, he is unperturbed until he spies a baby gull in trouble. He takes it upon himself, and his friends, to care for this bird until it is old enough to do so itself but when it's time for flying lessons, he and his friends are really stumped. A delight to read!
Tom, in The Tale of Tom Kitten, by Beatrix Potter
It would be impossible for me to write this list without including dear Tom Kitten, the naughty pussy cat who gets into all sorts of mischief and mortifies his mother, Tabitha Twitchit, during one of her tea parties. A purrfect example of the mischief kittens can get up to!
Before – nicely dressed…                           After – in a mess! Naughty
(Tom in the foreground)                           kitties getting a smack!
Captain, in Captain's Purr, by Madeleine Floyd
At first glance in this charming book, Captain seems to be a typical cat – he likes to sleep, eat and clean himself. He really doesn't do much of interest… until at night, when he leaves his house, jumps into his row boat, and visits his 'sweetheart' – a lovely ginger female. Beautiful, romantic and always a joy to read.

Fred, in Posy Simmonds's Fred
Holly suggested this one to me, as she remembers the story well from her childhood. This book deals with the death of a much-loved family pet. The children mourning Fred are helped through their grief when they witness a wake given by Fred's friends, at which they discover that Fred had a secret life and talent away from his usual routine of eating and sleeping at home. He was quite a character, and will get children (and adults!) wondering what on earth their cats get up to at night when they sneak through the cat flap.
Bob, in A Streetcat Named Bob, by James Bowen
Bob is a pretty famous cat now, not only on the streets of London but through a book (one version for children, another for adults) and a film. Bob adopted James, who admits the cat saved his life as much as the other way around. It's a heartwarming tale of friendship between cat and human and proof that encounters aren't always by accident.
There are many more cats I haven't mentioned. You can read a similar post I wrote a few years ago on National Cat Day here:  https://childtasticbooks.wordpress.com/tag/captains-purr/ – in which some of these cats are mentioned again, and there are also some different ones.
What literary cats do you like? Please share!