What better book to read in the (pardon the pun) run-up to sports day than Sue Hendra's and Paul Linnet's latest instalment in the Supertato series, Run, Veggies, Run!?
It was actually pretty coincidental that I picked this up in the bookshop the week before our school had its annual sports day. I just saw the cover and thought I had to add this book to our collection because the children at St Michael's are such huge fans. And indeed, when I showed them their special surprise during story time, their faces lit up, and they gasped so excitedly, that I knew we'd be onto a winner.
What it's about:
Supertato isn't impressed by his fellow veggies' fitness … or lack thereof. They can't keep up with the speed on the conveyor-belt/treadmill and he has to rescue them from falling in the baggage area.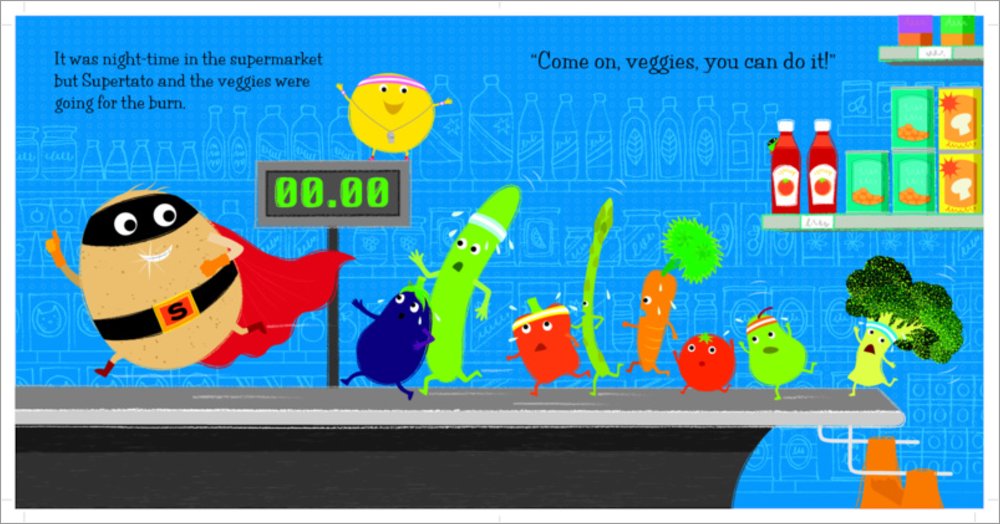 Added to that, their diet leaves something to be desired – gorging on crisps (uh, do they not know where they come from?!), doughnuts and burgers and dozing in hammocks mean they're not at their fittest. As Supertato remarks: "Whoever heard of an unhealthy vegetable?" (The children piped up at this point that there are some – eg ones that are rotten.)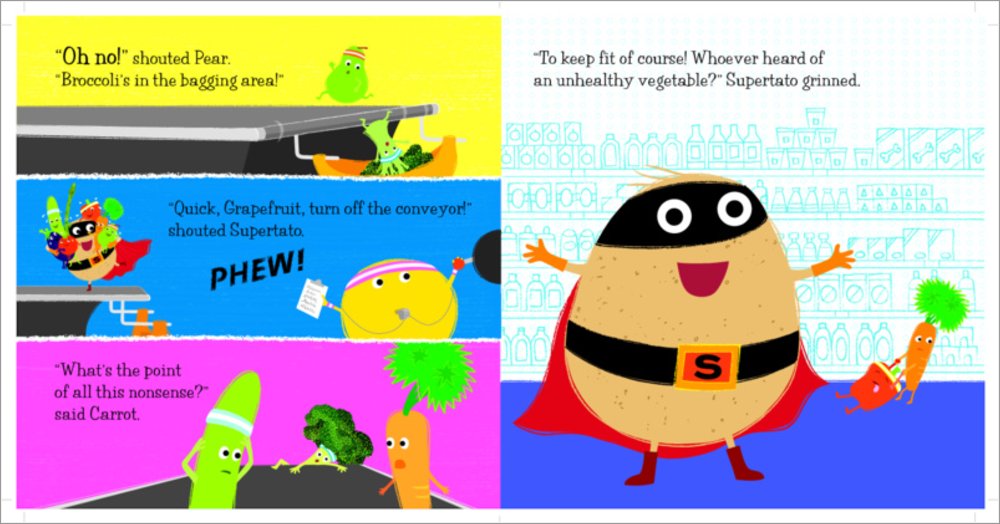 To inspire his friends to adopt a healthier lifestyle, Supertato arranges a sports day, where there will be running, jumping, carrying the heaviest item… etc. But just as they're about to start, who should make a last-minute appearance but The Evil Pea, along with his protegee, Gloria (a suspicious-looking watermelon). The Evil Pea announces that Gloria is going to win all the activities and she soon does. But Supertato knows that something's not right … and he's out to find out what it is.
What we thought:
As expected, the children loved this story from the first to the last page. The usual silly (but very funny) jokes were there, along with the favourite vegetables. I think The Evil Pea ranks up with Supertato in terms of popularity too – it was as if the children were holding their breath for his appearance in the story to make it that bit more funny and exciting. They nearly jumped out of their seats in excitement when he rolled up with Gloria! They followed the story avidly and asked for it to be read to them again as soon as I had finished. You can't ask for better than that, can you?
Afterwards…
Since we were gearing up for Sports Day, I asked the children to design pictures of various fruit or veg doing sporty things. They got stuck into that with glee, with some interesting results.
Sorry for the blurry image – it's because the fruit and veg are moving! (Not really…) In the pic on the left, we have a swimming banana with a carrot balancing on his head, and a red pepper jumping rope alongside The Evil Pea on a trampoline. On the right is a netball game of carrots against aubergines. Not sure who's winning, but Supertato, as ref, will ensure a correct result.
In this picture, The Evil Pea, wearing his black cape, is jumping rope alongside a happy broccoli. They seem to be enjoying themselves…
Of course Supertato had to feature in many of the drawings. In the three above, we see various representations of the Super Spud, one swimming after The Evil Pea, one running to the rescue of a friend, and a final one who looks rather frightened (and like he's sprouting something out of his head).
As usual, Supertato has been a huge success. We can't wait to read his next adventure!