Today's review is of a book by a writer and illustrator from Barcelona – Anna Llenas – so I couldn't resist attempting a little Catalan in honour of her work, and in memory of the months I spent in the city over 20 years ago. I just hope I got it right!
The expression "opposites attract" is much used to describe relationships, and I can't think of a better summary for the subject matter of Llenas's new book I Love You (Nearly Always), published by Templar.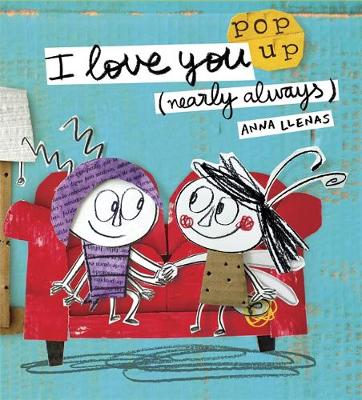 In this delightful picture book, Roly – a woodlouse – and Rita – a firefly – are best buddies … who sometimes get on each other's nerves. Rita thinks that Roly's suit is too hard, while Roly thinks that Rita shines too brightly. The two get into a massive row one day and the future's not looking too bright for their relationship (even with Rita's natural glow). Roly has even gone to the trouble of creating a Book of Complaints about his best friend, which he digs out of his bookshelf when the two have an argument.
Of course, the two can't stay angry at each other for long and, through a mature process of compromise, try to lessen those aspects that are most annoying for the other because, "Roly and Rita know they are very different, and this is why they love each other." The illustrations don't sanitise anger for the children – even at the end, the two are scowling at each other in one scene, but they return to happiness and affection in the last spread.
This is a funny and engaging read that encourages younger children to think about emotions (I can think of many adults who might benefit from this too). Anna Llenas uses a wide range of illustrative techniques to make reading the book a much more active experience – there are pop-up pictures, pull/lift-the-flaps and other little surprises, such as an actual tiny book of complaints to read, that little fingers will love. The architecture of the book is clever and, boy, is it BIG – even including a mini-scene with real bunting and string. I was amazed at the amount of work that went into this, and the young children I shared it with couldn't stop playing with the pages.
As with most stories aimed at children, I Love You (Nearly Always) has a message, a moral. However, no one likes being lectured to, and in this story, we're not. We're seeing that, while being different can cause arguments, it can also bring enrichment into our lives. And also – it's OK to argue sometimes! To suggest that life should always be peaceful is untrue – it's the making-up that matters.
Llenas's almost frenetic artwork suit this subject matter perfectly, especially when Roly and Rita are at war with one another; the dark, almost violent crayon lines express anger and movement exceptionally well. The entire book feels full of life and fun and will be appreciated by any child who picks this up. I look forward to seeing more from Anna Llenas in the future (perhaps in her native language – Catalan!)
Anna Llenas