Remember your school days when it was essential to fit in? To a certain extent, the same is true of adulthood, though perhaps we have more resilience and courage to be different with a few more years under our belts. Nevertheless, there is always pressure to be one of the gang no matter who you are, so imagine what it must feel like if you're a sausage dog with a quirky dress sense and personality. Award-winning author and illustrator Rob Biddulph has done just that in his new, hilarious book Odd Dog Out (published by HarperCollins Children's Books).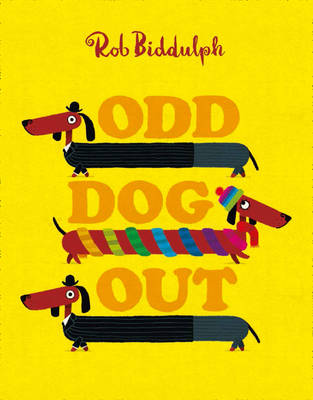 Amongst scenes of countless dachshunds wearing suits, driving cars, and playing football in the same kit, our heroine Odd Dog is rather fond of her rainbow scarves and bobble hat, playing her electric guitar while the others choose the violin.
But soon the pressure mounts and she decides to leave the place she has always called home in search of somewhere where she won't stand out from the crowd. After journeying far and wide, she discovers such a place: Fabulous Doggywood. At last she can blend in and feel at ease… until she finds someone else who looks out of place and who doesn't seem to mind in the slightest.
Odd Dog Out is immediately appealing to the eye with its vibrant colours and incredible attention to detail. How he managed to include so many dachshunds on one page is a mystery – and a delight – to me, and the children I read the book to loved them. They were even more excited at the end of the book when more dogs decide to break rank and show their individuality. This can be the basis for excellent and creative activities – there is a downloadable Odd Dog template on Rob Biddulph's website, along with other fun things: http://www.robbiddulph.com/downloads We did this in school and the children decorated their dogs with all sorts of accessories!
The book is also great for discussions on individuality. How important is it to be who you are rather than who you think you should be? How are you different to other people?
Whether you use this for that reason or just for fun, you're sure to enjoy this book. It flew off the shelf the moment I put it on display, and you can't hope for better than that.