I can't quite convey how excited I was when I received Duncan Beedie's new picture book The Lumberjack's Beard.
A fan of his previous book – The Bear Who Stared – I knew that I would be in for a treat with this title … and boy, was I right.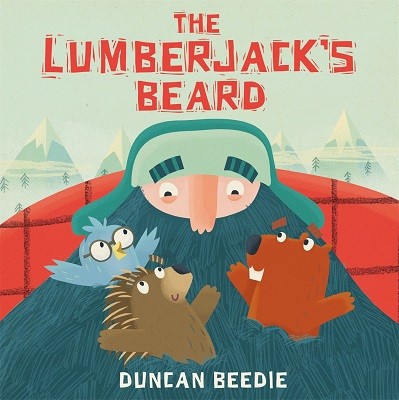 Big Jim Hickory is a hardworking lumberjack. He's so good at his job that he soon deforests vast swathes of land near his log cabin, annoying various forest creatures in the process. Three of these – a bird, a beaver and a porcupine – take issue with him for destroying their homes, so he allows them to live in his beard, until it all becomes too much and orders them to leave. But, as the animals remind him, he's taken away their woodland homes so where will they end up living?
All the children I read this book to – from Reception to Year 2 – loved this. The repeated actions Big Jim goes through every morning, from his 'limbering-up exercises' to cooking his massive stack of pancakes, had them chanting along, especially when I rubbed my chin and they said in unison, "his big bristly chin!" . The bold, bright illustrations held their gaze as we travelled through the book and no one fidgeted or became bored. Praise indeed!
I love using books that I can then use for literacy and art activities in the Library and this book had loads of possibilities. First of all, I used it as a basis for considering non-fiction topics such as natural habitats (we looked at a book about where forest animals live, and the special names for their homes) and environmentalism. We discussed how we use trees, why we need them and what might happen if we don't look after them (including rainforests in this). With Key Stage 1, I got them to draw animals that live in forests that could become endangered if the trees disappear, and we produced a display of Big Jim and a menagerie of animals, birds, living etc in his beard! I beefed this up with some facts about trees and how it's important to look after them to get the children thinking about how important it is to protect our woodland friends.
(And, yes, it took ages to make that massive beard!)
Our friends at Templar Publishing also send along a packet of Big Jim Hickory's fir tree seeds with our review copy, so our school's gardening club spent one afterschool session planting the seeds. They are now taking very good care of them – keeping them in the school fridge and watering them as per instructions. The plan is to plant them in the school allotment when they're ready. Naomi, a girl in Year 2, wrote a lovely piece about this which we have displayed – check it out below.
Sandra, the Year 5 TA who also runs the Gardening Club, then suggested we use the book with Year 5 when they came to the Library. At first, we had moans from some of the boys who said, "We're not BABIES!" – shocked at the thought of having a picture book read to them. So we said we'd challenge their opinions on picture books and talked about what Key Stage 1 had done with the story. Soon, I couldn't stop the older children from telling me everything they knew about deforestation, where animals live, and a whole raft of things that I didn't even know about. Half an hour soon passed and we could easily have talked about it more. Did the book change their minds about whether something like this is just for 'babies'? Absolutely. They were as fascinated by events as the smaller children, and are going to come back next week to write a review.
So this book isn't just about a big man with burly shoulders named Jim Hickory. It's a comedy and it's also an invitation to think about our environment. Not in a preachy, worthier-than-thou way, but in a manner that encourages debate, ideas and, basically a lot of fun. Especially if you throw in the limbering-up exercises.
Please note that while we received a copy of this book for review, the opinions expressed here are entirely our own.