So many books have come my way over the last few weeks that I've struggled a little to get posts written. The thing is, they're all lovely and I really want to get them out there as possible suggestions for Christmas presents! So, what better way than to do a post with some of my favourites?
Little Christmas Tree, by Jessica Courtney-Tickle
Published by Big Picture Press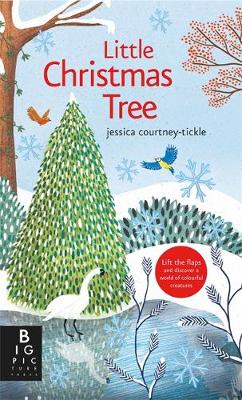 The adjective that springs to mind when looking at this book is 'adorable'. Jennifer Courtney-Tickle has created a little story based around the day in the life of a wild Christmas tree, adorning the countryside where it lives. There is plenty of sparkle and shine to attract little eyes and the colours are beautiful – rich, bold, soft, calming – a whole array of effects leaps off the pages. Children can read about the various animals who visit the scene and strategically placed flaps can be lifted to uncover points of interest in the natural world – flora and fauna. I'm an adult and I got excited considering what might be hidden under a snowflake or log!
This book is a delight to look at, hold and explore. It's a board book but the material is so light that it's easy for little hands to hold, while still being robust enough to prevent breakages and other damage. Any child receiving this at Christmas would spend a lot of time with it and, of course, time spent with a book is time well spent indeed.
Raven Child and the Snow Witch, by Linda Sunderland and Daniel Egnéus
Published by Templar Books
I first saw this book mentioned on Twitter and instantly fell in love with the beautiful artwork. Fortunately, the kind people at Templar Publishing sent me a copy to review! I apologise for the length of this review – it is longer than I normally write, but this book deserves the space.
The story revolves around young Anya and her family, who live in the remote Snow Garden. They enjoy a humble and peaceful existence, until Anya's mother heads off one Spring to pick blue gentian flowers on the glacier where the Snow Witch lives. When she fails to return, Anya and her father set off to rescue her, battling blizzards and hailstorms until they reach a village whose children have been abducted by the Snow Witch. Half Tail, the Arctic fox Anya and her father rescued along the way, picks up the scent of the villain and runs off. Anya's father starts gathering the villagers together to follow but Anya is too impatient and heads off without them accompanied by the faithful raven Broken Wing. Anya reaches the Snow Witch's great cave and discovers the village children frozen in the ice. It is up to her to save them from their fate, but how can a young girl stand up to the power of an evil monster?
Raven Child and the Snow Witch is reminiscent of Hans Christian Andersen's The Snow Queen. Both are fairytales in which brave young girls conquer their fears to rescue loved ones, regardless of the dangers that lie in their paths. Equally, the central message to both stories is that love overcomes all evils, particularly a child's love. Raven and Gerda are excellent role models for young girls, forging their own way to save someone else rather than waiting for a prince to rescue them.
Linda Sunderland's writing follows in the best fairytale traditions. She starts the book by setting the scene with some descriptive hyperbole:
"If you walked for one hundred nights and one hundred days across the frozen Lonesome Lakes, over the Shimmery Mountains… and through the Forest of a Thousand Eyes… you would come at last to the Snow Garden."
and showing how our heroine, Raven, has preternatural powers of speaking to and empathising with animals:
"She spoke their [ravens'] language, learning of their journeys over the ice fields…"
As is the case with many fairytales, she then presents her character with the essential 'quest' – to save a parent from evil. And of course, it is only the child who can carry out the rescue. Sunderland weaves poetic prose with dramatic dialogue to create the tension that sets the story going. The descriptions of Anya's and her father's journey are ripe with suspense, culminating in her final encounter with the Snow Witch. As is also the rule with all fairytales, the story ends happily, with the satisfying knowledge that it was Anya who saved the day.
Daniel Egnéus has created stunning images to complement Sunderland's writing. He alternates between stark, dark colours and icy pastels to create Anya's wintery world, and each spread is full of movement and emotion. Sharp lines symbolising fear contrast with the softer blurrings of memories and his choice of colours brings the story to life.
I read the story to a group of Year 1s and they sat, completely silent, throughout, which is quite exceptional! They had expressions of wonder the entire time, except at the end when they looked relieved at the outcome. When I asked them their favourite part, they said (warning, contains spoilers!):
when the Raven Child flies into the air
when she saves her Mum and all the children
when they all went back home again
Coming Home, by Michael Morpurgo and Kerry Hyndman
Published by David Fickling Books
Last year, Sainsbury's joined forces with Judith Kerr to create Mog's Christmas. This year, Waitrose and Michael Morpurgo have released a picture book called Coming Home – a short story about a brave robin's attempt to fly home in time for Christmas. Along the way, the robin encounters many dangers including storms, predators, ice, fog, and raging seas. Each encounter leaves him weaker and exhausted until he finds shelter on board a fishing boat, where he is fed, watered and cared for before he embarks on the final leg of his journey.
The story reads like a poem and the language, as you would expect from Michael Morpurgo, is evocative and beautiful. The words create the movement of the robin flying and there is a palpable beat flowing through, best appreciated when you read this aloud. There are moments of drama and tension interspersed with calmer breaks, which reflect the ups and downs of the robin's journey. Hyndman's illustrations are a perfect match too, full of beautiful colours and details that not only complement Morpurgo's words but add their own emotive meaning.
While it was written with Christmas in mind, it is a good book to introduce children to migration. Additionally, it reinforces the importance of home which ties in with the campaign Waitrose is doing this Christmas to raise money for Shelter, as 50p from each book sale goes to this wonderful charity. Books can be purchased from Waitrose in store or online.