With the Olympics filling our screens at present, and with the marvellous achievements and commitment all athletes are displaying, what better time to review Sophy Henn's new picture book Pom Pom is Super!?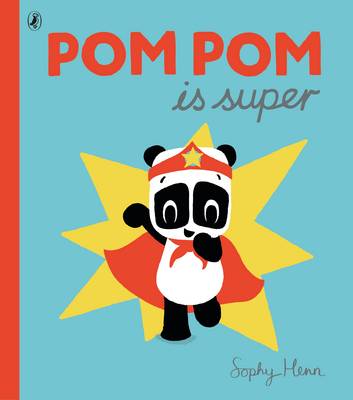 Published on 4 August, this is the latest instalment in the Pom Pom series, but my first introduction to the loveable Panda. The bright, almost pop-art colours are immediately appealing, creating character and movement throughout the book, which children will love.
The gist: Pom Pom is excited because his best friends are coming over to play. However, as each one arrives, it becomes clear that they are not exactly who Pom Pom is expecting. Buddy the Lion has turned into Fantastic Footballing Flash, Rocco Raccoon is The Ant King, Scout (either a ginger cat or a small tiger) is Swooshing Scout the Spectacular, and then there's Twinkly, Twirly Tornado Bear. Each of the friends is excited about their own special talent and can't settle down to the games Pom Pom has planned, to the extent that that Panda feels out of place. He desperately tries to find his Super Talent but struggles. Will he find what he's best at or will he fail to be Super?
Opinion: Pom Pom is Super is a fun, vibrant story that will capture children's attention from the start. They'll love learning about each character's skills and chuckle at their antics. Everyone – adults and children alike – can also identify with Pom Pom's dilemma: who hasn't at some point doubted that they possessed something that made them special or unique? The lovely message of the book is that we all do have something unique about us, and it is often through our friends that we find it.
As part of a new approach in this blog, I've included a section below on how this book could be used educationally, either at home or at school.
Literacy: The first half of the story has great examples of alliteration – you could play a game of spotting the repeated letters and even encourage children to think of their own alliterative superhero names! Some of the words are written entirely in capital letters, so you could use these to prompt discussion on why this is so (effect, impact, excitement…). The verbs used are inventive too, reflecting the characters and how they move. Why not ask children to think of different examples or even create their own sentences, either using the characters in the book or to describe themselves?
Emotional intelligence: As with all great picture books, Pom Pom is Super! explores how characters respond emotionally to the given situation. The titular Panda's eyes change as the story progresses, and you could ask children how they reflect how he is feeling. Additionally, can they identify why he is sad? How would they feel if they were in the same situation? What could they do to make Pom Pom feel better?
You could also use the story to discuss the idea that everyone has a talent and see if your child/children can say what their own strength is. What about their friends'? It's important for children to see that they all have something to contribute to life and to feel proud of their abilities, and this book is a great way of putting that message across.
Fun activity: As a fun activity tied in with the book, why not ask the children to make up their very own character and describe it using similar language in the book? If you use this in a classroom setting, children could share what animal they have invented and then work in small groups to make up a short story, using several characters!
While I received a review copy of this book, please note that all opinions expressed are my own.