Some sort of cyberspace kerfuffle has broken out about a comment American journalist Gay Talese made in an event at Boston University.
Apparently, when asked to name female writers who had inspired him, he replied 'None'. (You can read more here.)
I don't want to comment on this specifically as there are all sorts of worms crawling out of the wood now – some accusing him of sexism, some saying that he misunderstood the question, some saying the question was actually about what female journalists had inspired him. And I also respect an individual's right to freedom and expression – if no female writers have inspired him then he is under no obligation to say so to meet society's increasing demands for politicial correctness.
However, I thought it would make an interesting blog post to look at female writers who have inspired me, and to ask you who you would add. I'd love to hear your responses so please do reply with your thoughts! And although this is mainly a blog about children's/YA literature, I'd love to hear about writers from any genre.
Without further ado, here are some of my favourites, in no particular order of preference.
Jane Austen
My introduction to Jane Austen was during my A levels (aged 16/17), when I read Pride and Prejudice as one of my set texts. I had worried that I'd struggle with the more formal and old-fashioned style of writing but this was never a problem. I loved Austen's wit, her gentle but very observant social commentary, and her prorgessive heroine – Elizabeth – who was way ahead of her time in refusing to do as society demanded and marry for money over love. Her father too shows concern for her emotional wellbeing over financial security when he worries that she is marrying Mr Darcy out of obligation to her family. I go back to this novel at various stages in my life as my 'comfort read' and will never tire of it.
2. Enid Blyton
Enid Blyton has played a huge role in my literary life. As a child, I devoured her books, particularly The Famous Five, The Secret Seven, the 'Adventure' series (starring Dinah, Jack, Lucy, Phillip and Kiki the talking parrot), and the Malory Towers and Twins at St Clare's boarding school series. I would read and reread these books every year, continuing well into my teens for the comfort they provided. I found solace escaping into the fantasy worlds she created, where children could have adventures and fun (and lashings of lovely food and drink) but still have a happy ending. I admit I'm still a sucker for 'happy ever afters' and am unsure about the modern trend for YA books to have to be traumatic. Sometimes, we all need a little magic, to be told all will be OK. Yes, I know there are questionable issues that arise from the narration – the girls do do all the cooking and home-making in the stories, but as a girl I never felt that that was my place. I just thought they liked it. And, if you ask my husband nowadays, he will definitely tell you that I am NOT an obsessive cleaner as a result!
More recently, Enid Blyton was the author who got Holly into reading after a rocky start. After enduring endless Biff and Chip readers, which Holly and I both detested, Blyton's jolly and exciting style were a breath of fresh air.
3. Katherine Mansfield
I was first introduced to New Zealander's Katherine Mansfield as part of an Open University module that I completed as part of my BA in Literature. I admit I was worried that I'd struggle with her style, which was meant to be rather obtuse, especially as she was a member of the Modernist movement, characterised by atypical structures and changes in narratives. However, I enjoyed the unsettling atmospheres she created in her stories, especially those that took domesticity as their focus. My favourite has to be 'A Cup of Tea', in which a wealthy lady, on her way back from a shopping trip, invites a poor  woman back to her house for a cup of tea, as she has been inspired to be more of a do-gooder as a result of reading the works of Dostoevsky. Her husband isn't keen to have this guest in his house but his wife insists that she stay at least for dinner. So he changes his tack and comments on how pretty the guest is, knowing full well it will fuel his wife's jealous nature over her temporary humanitarian concern. True to form, the female competition is shown the door, leaving his wife in doubt about whether she is pretty or not and forgetting why she asked the woman back in the first place. A fantastic story, full of unspoken but very clear social commentary.
4. Judith Kerr
When I lived in Canada, one of my teachers started reading When Hitler Stole Pink Rabbit to us, which is Kerr's fictionalised account of her family's journey across Europe, seeking sanctuary and safety from Hitler. At the time, I had (and still have!) a favourite rabbit as a cuddly toy and when Anna chose to take a board game instead of her rabbit when the family leaves home appalled me. For some reason, I never read the end of the story at that time though I returned to it with Holly several years ago, along with the other two stories in the trilogy of books based on her life. Amazingly I never knew Kerr as a picture-book writer till I had Holly, which was a later-in-life treat! I enjoyed The Tiger who Came to Tea but particularly liked the Mog series. (Although I remember standing in WH Smith in tears when I discovered Mog Says Goodbye, a gentle look at the death of a pet and the eventual hope that follows it.) I saw Judith Kerr interviewed by Nicolette Jones in Oxford a couple of years ago, and was as enchanted by her as a person as I am by her wonderful books. Kind, charming, sensible, humorous and never self-indulgent or self-pitying, her recollections of her family's time of strife during the war is always matter-of-fact and she conveys this whenever she speaks or writes about that time. Kerr is a writer and a person I much admire – she is still working now and shows no signs of slowing down. I hope I can be like her later in life!
5. Charlotte Bronte
I was probably in my thirties when I read Jane Eyre, which is a bit naughty, really. But how I enjoyed it. I loved Charlotte's fiercely independent nature, even when life was really against her. She'd be a good, fictional sister or friend, I feel, to Elizabeth Bennett, although she's perhaps much more serious and less witty. (How I'd love to see a conversation between those two heroines!) Charlotte always fights for her rights and Bronte did a wonderful job of showing women and girls how important it is to do so.
6. Agatha Christie
Holly and I both thought Agatha Christie deserves to be on this list. She's arguably one of the most respected and prolific of crime authors and while modern critics may denounce her writing as formulaic, it still finds popularity across the generations. I think this is because her mysteries are based on human emotions and the appalling things people will do in the name of love, hate, jealousy and revenge. Some are intensely chilling, such as And Then There Were None, adapted by the BBC last year. Ten people, marooned on an island and gradually being murdered, or murdering each other, is horrific and clever. At times I think Christie cannot be beaten in the genre of psychological thrillers and she had a real eye for human behaviour.
7. Janet Evanovich
Thanks to my job as Schools Liaison Officer at Oxford University back in the late 1990s, I did a lot of travelling, mainly by train. And it was in Birmingham New Street station where I picked up a copy of the first book in a new series about a protagonist called Stephanie Plum, ex-lingerie saleswoman and newly-trained bounty hunter, working for her dodgy cousin Vinny in his bond agency in Trenton, New Jersey. I'd read somewhere that this book (called One for the Money) was hilarious and I liked comedy and crime so thought I would give it a go. I was so glad I did. I laughed aloud on trains, I gave copies of her books to friends, and got my husband hooked on them too. I think what appealed most was Stephanie's independent yet flawed character. She was trying to earn a living, putting up with her mother's reprimands about being single, solving crimes (often comically badly) and having the usual bad hair days and comfort-food binges that we all have. She was a heroine, but not a picture-perfect one. She had as many virtues as vices and a wry sense of humour to boot.
8. Helen Fielding
With the success of the films, starring Renee Zellweger, Colin Firth and Hugh Grant, a new generation of readers might not realise that Bridget Jones's Diary first appeared as a series of newspaper columns, and then as a book, before it hit the screens. I read the first book in the trilogy in my twenties, so not quite the age of Bridget herself, and I couldn't stop laughing. Not at Bridget but with her. The obsessing over weight, calories, cigarettes, drinks, etc, and the life of a singleton – all of this was incredibly funny and incredibly real. I've rediscovered her this Easter holiday as we've watched the first two films with Holly and she's now reading the first diary, and enjoying it as much as I did. Bridget is another heroine, like Stephanie Plum (above), who is as loveable through her faults as her features and it's interesting and reassuring that there is a place in literature for women who are like this. In the past, it was important for women to be challenging the status quo and protective of their independence. Howevery, nowadays, it's all right for women to laugh at themselves, at their corsets or Spanx pants rolling down at important function, and at their unhealthy attachments to self-help books. And Bridget still does kick some ass, too, especially when telling her sexist boss to go to hell.
9. Mary Shelley
What a woman and what a story she created. The daughter of feminist Mary Wollstonecraft, and revolutionary writer William Godwin, it was perhaps inevitable that Mary (Jr) would be one helluva writer. But it's also true that she was writing in a time where female novelists and poets were still not taken as seriously as their male counterparts. Take, for example, the 18th century poets. Who do we remember mainly from this era? Shelley, Lord Byron, Keats, Wordsworth… What perhaps we didn't know was that there were plenty of women writing too, who weren't as widely or at all published. Dorothy Wordsworth apparently first noted down observations about the daffodils her brother William became famous for but did she get the credit? Nope.
Anyway, I digress. Mary Shelley had a scandalous start in life, running off to France with Percy Shelley, who was still married at the time to wife Harriet, who drowned herself in 1816. Mary wrote her classic novel Frankenstein during this European tour, after a particularly nasty nightmare, and impressed her literary companions Shelley and Byron. She was only 18 when she wrote the story and 20 when it was published, a feat that is as impressive now as it was then. I've put Shelley on my list because of this achievement and also because of the message she's trying to convey in the novel itself. It's not just about a man who does disgusting things to corpses to bring one to life (to his immense regret). It covers all sorts of other areas and philosopical debate: the idea of God creating man is up for discussion, the lack of acceptance and tolerance of mankind towards anyone who is different, and the act of putting oneself first before the common good. It's so rich in questions and competing philosophies, yet full of Gothic horror and suspense, that it is a novel that works on many different levels.
10 Daphne du Maurier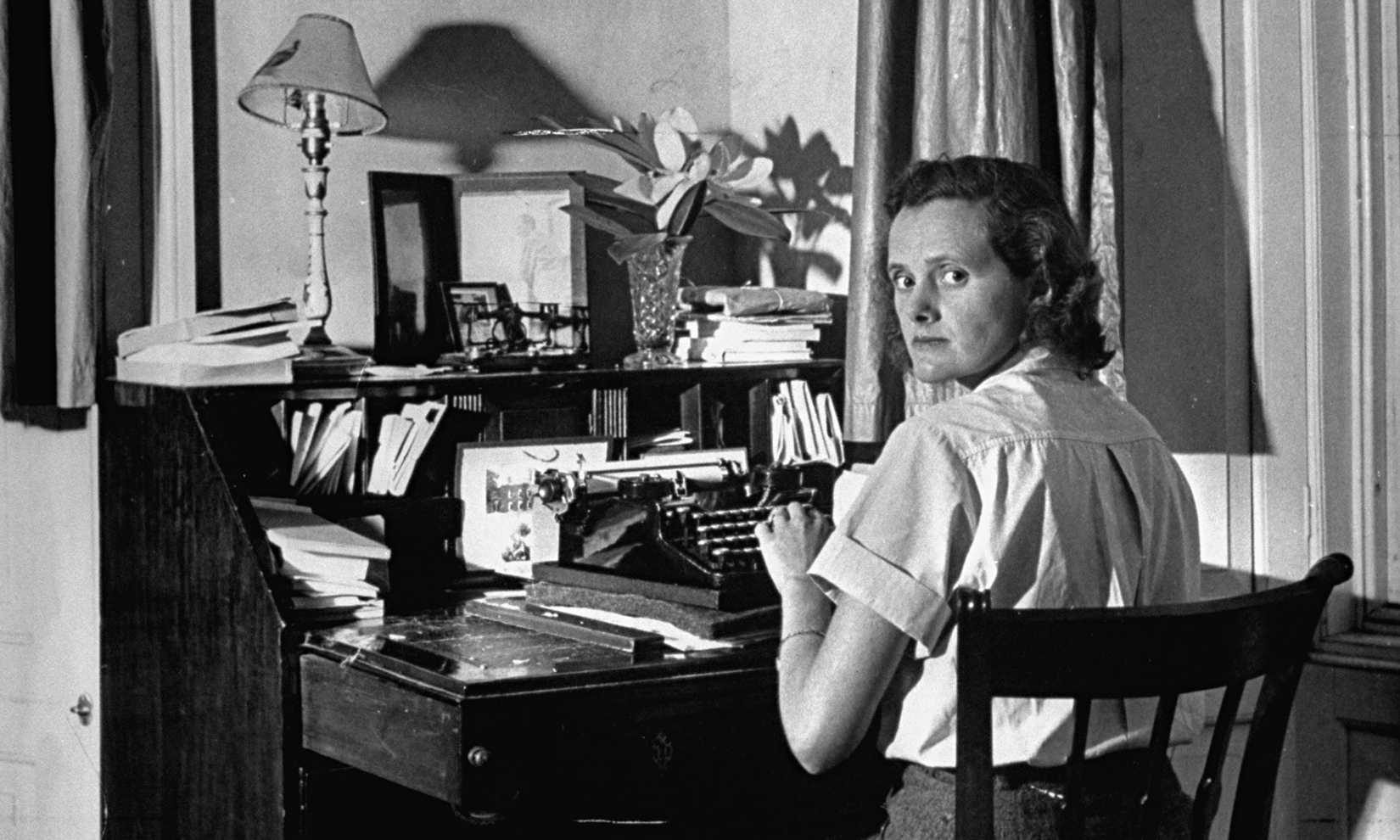 My last, but not least, female author for this list is Daphne du Maurier. I remain impressed and in awe of her ability to write an entire novel (Rebecca) without giving the reader the name of the narrator. And the reader does not necessarily realise this until they have finished the book, showing that they, too, are guilty of dismissing the narrator as unimportant. Yet she gets what she wants from new husband Max, especially in the end, which, rather like Jane Eyre, results in a blaze that obliterates their world. What I like about Rebecca is that, each time I read it, I come away with a different opinion on the narrator. In my first reading, I felt sorry for her, and felt that she was deceived by her husband, and placed at the mercy of the terrifying Mrs Danvers. On the second reading, I became quickly irritated by her passive nature, but then I started to think that perhaps she wasn't as naive as she liked to pretend. In fact, I believed she was a conniving so-and-so. Now, I am wavering between the two. Still, it's a book that I adore reading and do so every so often for the suspense. I also love Jamaica Inn and Frenchman's Creek. In the first, the atmosphere du Maurier creates is terrifying – the desolation of Bodmin Moor, the threat of the smugglers and the fact that Mary appears to have no allies. Frenchman's Creek is an adventure and a love story rolled into one. I'm not a big fan of romances but this novel was stunning and not sickly sweet or full of cliches.
I'm aware I've left loads of women off this list. It's hard to select only ten when there are so many female writers whom I admire. I would also add Shirley Jackson, Hilary Mantel, Susan Hill, Judy Blume, Eva Ibbotson, JK Rowling, amongst others.  But there are far too many!
What female authors do you particularly like and why? Please share!