I discovered a new children's book today at a book fair I was running. It was Half a Man by Michael Morpurgo, beautifully illustrated by Gemma O'Callaghan, and I couldn't think of a better piece of writing for Remembrance Day.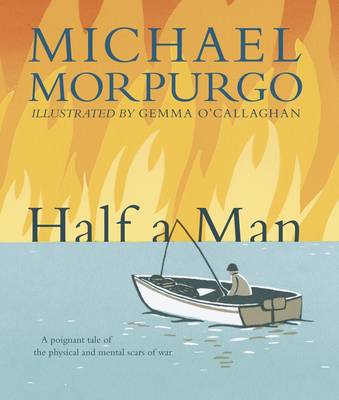 The blurb on the book says that it is "A poignant tale of the physical and mental scars of war" and I would add that it not only applies to those who return from war but the families and friends who were originally left behind. Morpurgo begins this non-fiction piece with a traumatic dream that he, as a child, used to have.
"This one was always the same. It began with a face, a twisted, tortured face that screamed silently, a face without hair or eyebrows, a skull more than a face, a skull that was covered in puckered, scarred skin stretched over the cheekbones. It was Grandpa's face and he was staring at me out of his scream. And always the face was on fire, flames licking out of his ears and mouth."
The dream is based on the reality of what happened to his Grandpa during World War II, who served in the Merchant Navy. While travelling across the Atlantic, his ship was torpedoed and he was severely burned and nearly drowned. He was rescued but the scars that remained with him meant he lived with the events of that night for the rest of his life. Michael, as a boy, was warned by his parents not to stare at his Grandpa because it was impolite. However, Michael admits:
"But every time, sooner or later, I'd do it; I'd sneak a crafty look. And very soon that look became a stare. I was never revolted by what I saw… I saw the suffering he had gone through in his deep blue eyes…"
When Michael was 12 or so, he spent the summer holidays with his Grandpa on the Isles of Scilly. It was then that he heard the whole story, not just of the attack but of the consequences of surviving. While the medical unit treated him and other burn victims with respect "[Dr McIndoe] made us feel right again inside, like we mattered, like we weren't monster men", his family struggled to cope with the scars he carried. His wife eventually left him, taking their baby daughter – Michael's mother – with her: "No one wants a monster for a husband. No one wants half a man, and that's what I was, Michael, half a man." The result was that he "lived with that hate inside of me most of my life…"
Michael's Grandpa admits all this to his grandson because he is the only one who stared at "his forbidden face, his forbidden hands." And when his Grandpa died, a while later, the goodbye letter he left to his Grandson echoed his appreciation: "Thanks for looking at me like you did."
Like many of Morpurgo's books, Half a Man raises pertinent questions about humanity and emotions without becoming overtly moralistic. He relates his Grandpa's story without striving for pity or shock or outrage and yet somehow the reader feels this on the Grandpa's behalf. And while the book is aimed at the children's books market I feel that its message is more aimed at the adults – about the importance of looking at life an people through a child's untainted eyes. To ditch self-consciousness and prejudice. O'Callaghan's sensitive illustrations capture the mood well, using colour to evoke mood and emotion.
I am not sure if I would necessarily put this book in my primary school library, and if I did I would target it at the older readers. Some of the information contained within – such the opening nightmare scene and the revelations about how his grandparents' marriage dissolved – feel too adult for a young audience if there isn't an older reader there to talk through the issues.
But don't get me wrong: this is an important book on the fallout of war. No matter who wins, there are always those who suffer, who lose a part of themselves and their life as a result. For Michael's Grandpa, it was his family and their ability to see him as a man, behind the scars. Things may have changed for the better nowadays – and I really hope this is the case – but we must never forget the everyday battles of those who come back from war. Remembering someone who dies as they once were is traumatic but we can still hold onto an ideal of who they were. Readjusting to those irrevocably changed – physically, emotionally and spiritually – is perhaps even harder.
Michael ends with a simple but powerful statement about his Grandpa, one which applies to all of those who return from war scarred by their experiences:
"…he wasn't half a man."